In addition to performing with The Zealots, front-man George Terry, AKA George Trouble frequently plays solo shows that present his work in an alternative, intimate and captivating format. His first solo album Plow was released in 2019. George is also a painter. See his work on the covers of all the records and here.

"Plow" weaves an imaginative lyrical landscape with a wide palette of classic Americana songcraft.  George sings with carefully crafted phrases and melodies, ranging from folk-punk, rock, and rockabilly, to surf and honest country blues. Originating at Kudzu Ranch and featuring Aaron Price's deft musicianship, "Plow" offers an exquisite distillation, enriching the American songbook.
Doing a regular monthly gig at The Joint Next Door in Fairview again!
I'll be sure to sing "The Tax Man" tonight!
The Grey Eagle, 185 Clingman Ave, , Asheville, NC 28801
It's the annual Bob Dylan Birthday tribute! Usually sells out so get your tickets early.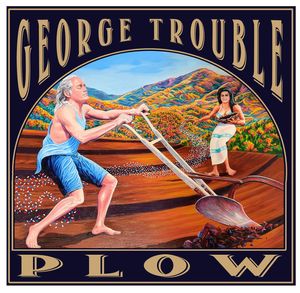 George Terry has been playing in rock bands since the 1980s, but he has never felt more committed to music than he does now.

"I'm kind of doing things backwards," Terry said. "I'm doing the stuff a young man should have done, as an older man. But I don't feel old. I'm having a good time."

Terry is the front man and guitarist for the Zealots, an Asheville, N.C.-based band that released its newest album, "Open Season," in March. 

"Everything started for me in Chapel Hill," Terry said. "I was the doorman at a bar where R.E.M. played to 5 or 10 people until they got famous. I loved (Bob) Dylan, the Byrds and Velvet Underground — just that kind of jangly '60s sound that helped inspire that scene."
Also drawing from such then-contemporary influences as the dBs and the Replacements, Terry immersed himself in the scene and headed a band that included drummer Sara Romweber, who became a member of '80s rock band Let's Active and now performs with her brother in the Dex Romweber Duo.

"I always like to boast that Mitch Easter stole our drummer and started Let's Active," Terry said with a laugh. Easter is perhaps most famous for producing R.E.M.'s earliest albums.

Although Terry stayed involved in music through moves to New York, Los Angeles and Washington, it was mostly a secondary pursuit. His main occupation was as an art teacher.

But, since moving to Asheville in 1999, Terry has become increasingly committed to music.

"I'm fulfilling some serious personal desires and having fun with friends," Terry said. "And I'm able to be honest about what my dreams and goals are, because I certainly can't get away with the glamour side of it.

"It's got to be good music, and it's got to be appreciated as good music, because I'm not pretty anymore."

(Excerpted from an article in the Spartanburg Herald-Journal by Dan Armonaitis)

Want the essense of The Zealots in a more intimate way, along with some other music George plays in the solo format? Be sure to catch one of his solo shows.